Excel, Data, and VBA Projects Consulting Services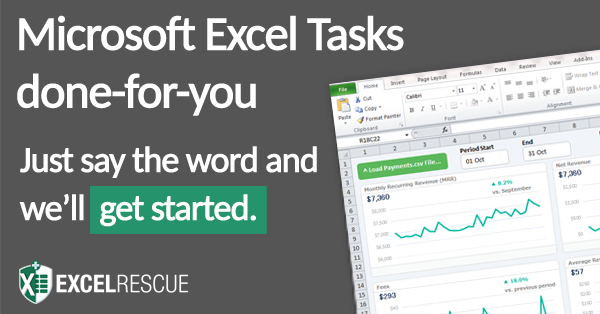 No more Excel headaches!
What Excel, Data, and VBA problems are you facing today?
I receive many messages from our lovely readers, subscribers, and followers (via email and on our Facebook fan page) to solve their day-to-day Excel, Data, and VBA-related problems.
But due to the shortage of time, my team and I cannot reply to or solve all those messages/problems.
So, I have partnered with ExcelRescue to solve your problems. ExcelRescue is eager to solve the following day to day Excel problems:
Graph, Chart, or Data Visualization
Dashboard, Scorecard, or Executive Summary
Duplicate Records Check (Deduplicate)
Recover a Corrupt File
Write a Function or Formula
Audit for Mistakes
Reformat or Reorganize
Write a Simple Macro
Something Else?
Why have I partnered with ExcelRescue?
I was in connection with Shane (founder of ExcelRescue.net) for a long time via email. I loved his team for some very good reasons:
A team full of Excel developers and project managers
Highly sensitive data is safe with them (protected by a strict non-disclosure agreement)
Fast delivery
Money-back guarantee with the projects
And for a few minutes of consultancy, there is no charge.
For smaller budget projects, I highly recommend ExcelRescue.net. They have got so many good reviews from their clients.